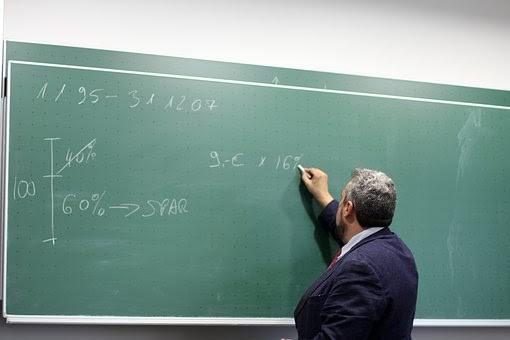 Teaching is a calling, a personally rewarding profession and a chance to make a permanent impact on a child's future. But it's often financially unrewarding. Unless you have some other means of earning income, teachers can struggle to make ends meet, especially if you have a family to provide for. Many teachers scan the want ads for work that'll pay the bills and, hopefully, offer enough flexibility to enjoy some time off from the rigors of a year in the classroom. So, why not think about it as an opportunity to establish an ongoing source of revenue?
Getting Started
As with any business venture, it's important to set yourself up from the beginning with the right workspace, an invoicing process if you will have clientele, a general idea of how to handle your taxes and a set way to make and receive payments. You'll want to monitor income and expenditures closely, and to spend money wisely. Selecting an advantageous business credit card is an important step in that direction. For example, you'll want to select a card based on the nature of your business and what you intend to do with the money you'll earn. When it comes to taxes, it might be ideal to speak to an accountant to get the lay of the land for quarterly tax payments and so you avoid a nasty surprise when tax time rolls around. To track invoices, consider a free or paid service with auto-reminders for both you and your customers.
Keep in mind that any side gig can be transformed into a permanent business opportunity that will support your teaching income. And by putting the right processes in place now, you pave the way for an easier time when school starts if you decide to keep your side gig.
English online
People all over the world want to learn English, either because they're planning to immigrate or because they want to attend an American college or university. The Internet has opened up an unprecedented number of opportunities for learning English online, and ESL teachers are always in demand. This is work that can be done year-round, and you can set your own hours so that it doesn't interfere with classroom time or other school-based duties. One such opportunity is offered through VIPkids, a website where Chinese children can learn English working with an individual instructor. Many instructors make up to $25 an hour, and they work when it's convenient for them, making it a viable long-term, money-making venture.
Tutoring
Tutoring is an excellent way to make money, allowing you to work with kids who struggle in a particular academic area. Teachers can earn money tutoring a few hours a week and get paid in cash. Many schools require students who earned a C or lower in a given subject to undergo tutoring, so there's always a need for qualified teachers to apply their skills. There's also a need for tutoring during the school year, making this an ideal way for teachers to make the most of their professional experience and abilities.
Driving for profit
The sharing economy offers many opportunities to earn by doing something a bit different. If you have a car that's clean and in good working order, why not turn it into a profit-making tool by working for Uber or Lyft? You can set your own hours and earn nearly $20 an hour depending on how often you work. Don't forget about the tips, which can boost your earnings considerably.
Blogging
As a teacher, you possess skills that give you a real advantage with an array of side gigs. As an instructor and communicator, you have the ability to write well and clearly, a skill that can earn you considerable money year-round. Blogging is an ideal way to create revenue by writing about a subject that interests you, and in which you have some expertise. As your following grows, there may be chances to add revenue through advertising and affiliate partnerships.
Thanks to the Internet and the explosion in the gig economy, teachers have more opportunities to translate their skills into income than ever before. Many such opportunities have considerable flexibility, enabling you to build a full-time side business.
Courtesy of Pixabay.com